BEST ASTROLOGER IN CHENNAI
Astrologers in Chennai - Seek guidance from a trusted expert
The Vedic astrology of South India holds immense importance for the local population. If you live in Chennai and are looking for a trusted and expert astrologer, we at Gajakesari Stellar Astrology services are here to provide the services to match your requirements. Dr. Acharya Haresh Raman is having more than a decade of astrology experience, doing accurate forecasts and predicting future events. He also guides to get rid of any mishap related to planetary positions. Dr Acharya Haresh Raman is the best astrologer in Chennai who is conveniently located, ensuring minimal consultation time.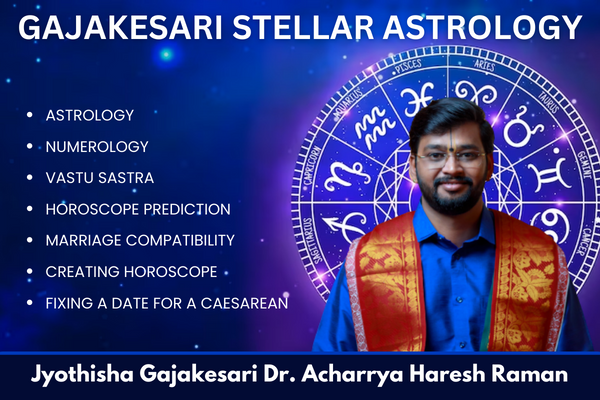 Hindus, who always have a strong belief in astrology, look at the planets not only as celestial bodies orbiting the Sun, but as divine beings that transmit subtle energies which have unique effects on human activity depending on their specific nature and location in the sky. The ancient science of space and time known as "Jyotisha" or "Science of Light'' understands and maps this effect. Using his expertise in analyzing and interpreting birth charts, Dr. Acharya Haresh Raman helps people understand their present and prepare for the future.
Many people consult "Jyotish Gajakesar Dr.Acharrya Haresh Raman" in Chennai for advice on career, finance, love, and marriage. Matching potential partners in birth charts is almost a prerequisite for marriage in this region. In addition, "Jyotisha Gajakesari" provides remedies for astrological imbalances or "Doshas" identified in the horoscope.
Chennaites can now simplify their lives just logging into the portal for the astrology service at https://www.acharyaahareeshraman.com. Our platform offers the best online consultation where you can seek advice for your future.
Dr. Acharya Haresh Raman is one of the best astrologers in Chennai follows a scientific approach towards astrology and provides all types of astrology services which includes Horoscope Astrology, Numerology and Vastu Consultation services. You can access it from anywhere, just go to our website, go to the appointment page, enter your details and click the send request button. Or contact us and our team will guide you to the next step.
Are you looking for best Vedic and Tamil astrologers in Chennai to solve your problems?
Look no further as your search for expert astrologers in Chennai ends with this Stellar Astrology by Gajakesari Dr. Acharya Haresh Raman provides the best Vedic and Tamil astrology services through online and offline consultations. At Gajakesari Stellar Astrology, we are committed to providing authentic Tamil astrology consultation services.